Legacy™ Manufacturing Company will attend the SEMA Show October 30-November 2, 2018, in Las Vegas, NV. Legacy, the maker of Flexzilla®, will gather with over 70,000+ domestic and international buyers to learn about the future of the automotive industry. Legacy will showcase their Flexzilla brand including their new Air Compressors with Quiet Technology, in addition to air hoses, air tools, blow guns and modular accessories, work & garden gloves, and more. Visit us at booth #15223!
NEW PRODUCTS!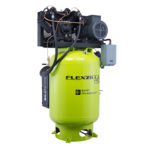 Flexzilla™ Pro Air Compressors with Silencer™:
Let's face it, standard air compressors are LOUD. All this NOISE interferes with workplace communication, lowers productivity on the job, and increases risk of hearing loss. Fortunately, Flexzilla™ brings quiet back to the workplace.